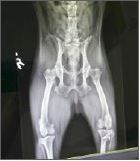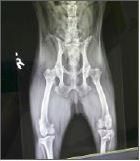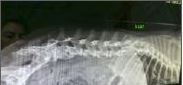 Here at Buckeye Veterinary Clinic, we are equipped to take digital radiographs (x-rays) of your pet to aid in our diagnoses of various problems. The veterinary technical staff members are trained in proper positioning and techniques to provide our veterinary team with the best images for diagnostic evaluation. Radiographs can not only detect broken bones, but can also show changes in organs that could indicate masses, heart disease, obstructions, and other medical problems.
We also have the capability to take digital dental radiographs. These detect problems with teeth and bone that exist below the gum line and are out of normal visual evaluation.
Digital Dental Radiographcat digital dental radiograph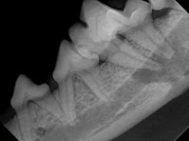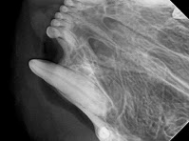 Above images: Top – Dog lower jaw (tooth with abcessed root) and Bottom – Cat upper jaw looking at canine tooth and sinuses
Radiographs can show subtle abnormalities therefore here at Buckeye we offer additional evaluation of radiographs by the Board Certified Veterinary Radiologist of VetRad. VetRad is a group which can further help our veterinary staff zero in on your pet's problem.
Dr. Vega & Dr. Faulkner have been trained, certified and work closely with our tele-medicine team comprised of Veterinary Internal Medicine Specialists, Radiologist and Sonographers. This gives our Veterinary Staff the ability to perform base line, in-house abdominal ultrasound capabilities with detailed results and recommendations. Advanced imaging of the CHest Cavity (heart and lungs) are still best performed by advanced imaging at a referral facility that has MRI or CT.